Relate Cambridgeshire is a registered charity and a not-for-profit organisation; we aim to provide a service for everybody. So we ask you to pay the counselling charges below to cover our costs.
We offer you highly trained counsellors who continue to maintain and develop their professional skills throughout their career and who attend regular ongoing training and clinical supervision.
There are a number of costs in providing a high quality counselling service: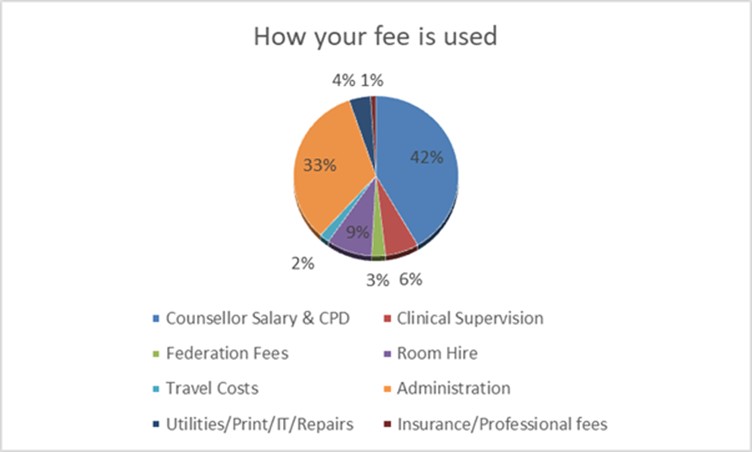 Counselling Charges:

What if I want to pay more and donate towards the Charity?
Donations make all the difference to us so if you are able to pay more than these counselling charges the additional money goes directly to support the charity's bursary and its aim to offer a service to everyone regardless of their ability to pay the full cost of counselling.
If you want to make a donation we would be very grateful and you will be helping those who cant afford to pay for therapy.

You can either make a one off donation here   
Or if you prefer you can spread the payment and pay extra for each session.
Gift Aid
Anything you pay over the standard charge is treated as a donation and we can claim an additional 25p per £1 that you donate through the government gift aid scheme. This will increase your donation by 25% at no extra cost to yourself, click here to access a Gift Aid form 
Thank you
Paying for Appointments
If you have an appointment at one of our outposts you will be sent an email with a payment link prior to your appointment, also you can call 01302 347866 to pay over the phone or ask us for our Paypal link. 
What if I can't afford it?
If you can't pay these counselling charges there is a limited bursary available for financial support. This will enable you to have six low cost counselling sessions. Please ask for an application form. 
Free and Low cost counselling with Relate Cambridgeshire 
As a charity we strive to offer a service that is affordable and we have some local funding available, thanks to the support of local Town and Parish Councils and grants. The National Charity also holds a number of Contracts offering free counselling.
National Funding:
Relate has national contracts with several organisations, view them here. If you qualify, we can offer you free sessions subject to qualifying criteria.
Local Funding:
Relate Cambridgeshire has a number of local grants. These are limited and subject to conditions, Contact us for more information.
BBC Children in Need:
Free counselling for Children ( 5 years and over) and Young People up to 18 years old – who live in our area. Please call us to discuss 01302 347866
NHS:
Free counselling for NHS workers, including Health and Social Care – in Cambridgeshire  and Peterborough, please call the Staff Support Hub to check eligibility and for a referral for: Relationship , Family or Individual counselling on: 0808 801 0377 Monday to Friday 11am - 7pm
Huntingdon Freemen's Trust:
Residents of Huntingdon Town
John Huntingdon Trust:
For those living or working in Sawston
Girton Town Charity:
For residents of Girton and Eddington, including Children and Young People
Newmarket:
Free counselling specifically for Children and Young People in the Newmarket area

The following Town and Parish Councils also support our work: Great Shelford, Soham, Linton, Waterbeach, St Ives, Meldreth, Melbourn, Papworth Everard, Cottenham, Sawston, Wisbech, Longstanton, and St Neots. 
NB: if none of the above apply we have our own limited bursary fund which the trustees allocate on an annual basis . This provides low cost counselling for those in greatest need– please request an Application Form from the Appointments Team:  01302 347866