The Meads store is the first of relationship support provider Relate's charity shops to be decked out in their refreshed brand. Visual changes include a colourful new sign, bold posters and other eye-catching marketing materials showing the breadth of the charity's work, the range of people it helps and the difference it makes to the nation's relationships.
Staff and volunteers at the Relate shop at 30 Meads Street, Eastbourne held an event on Friday 4 November to showcase a completely new look, raise awareness of the charity's work transforming relationships and encourage people to reduce pressure on their finances by shopping pre-loved this Christmas.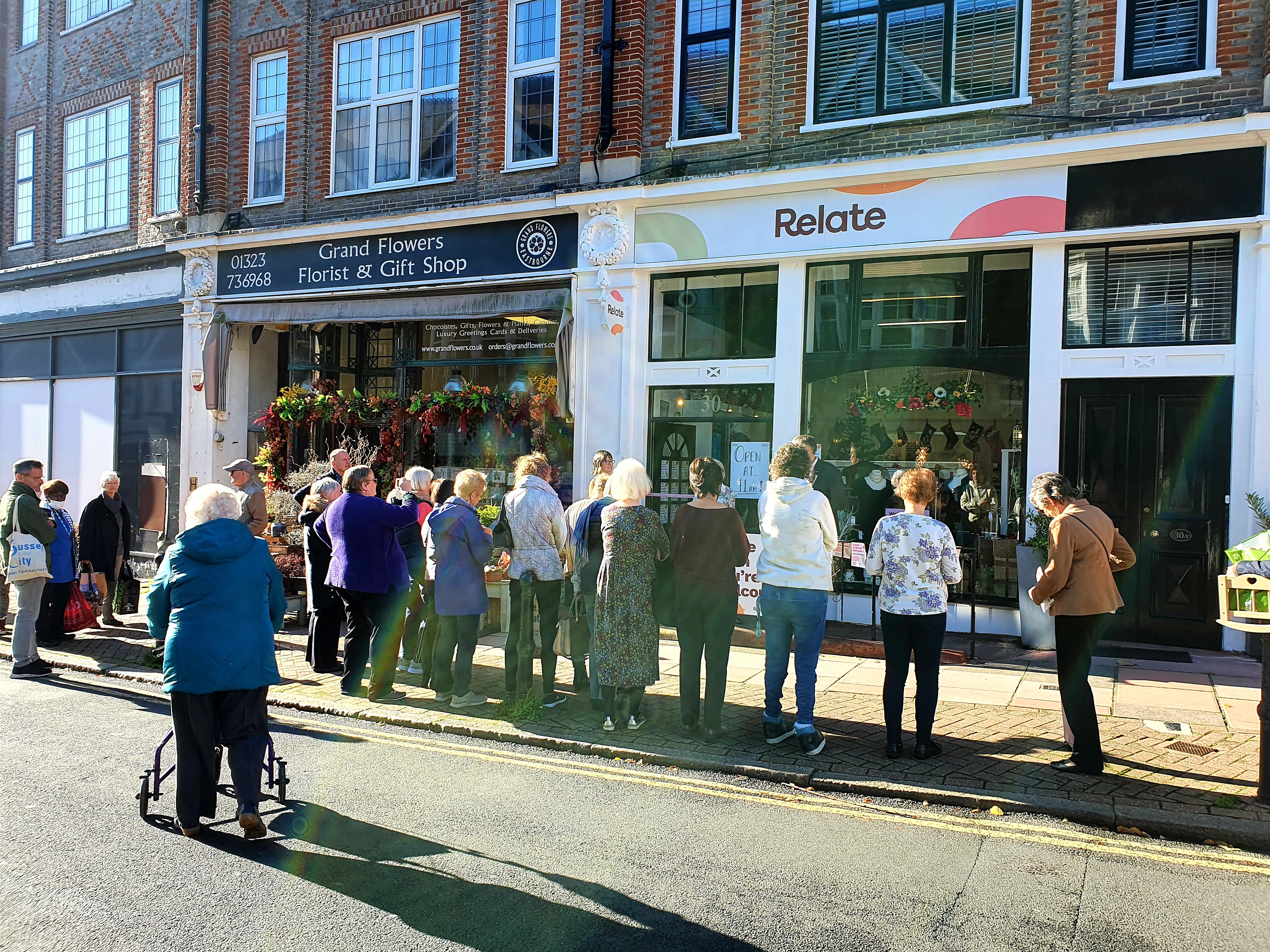 Customers gathered outside the shop at 11am in anticipation and listened to speeches from Aidan Jones, Chief Executive of Relate, Jayne Ennis, Shop Manager and Juliette, the shop's longest-serving volunteer, who also cut the ribbon. As well as enjoying refreshments, grabbing themselves bargains and checking out the shop's newly unveiled Christmas section, customers attending the event had the chance to chat to local Relate counsellors Julie Brough and Desylee Colomb to find out more about the charity's services. Now mainly delivered online, these include relationship counselling for partners and individuals, family counselling mediation, sex therapy and self-help.  
Pre-loved pledge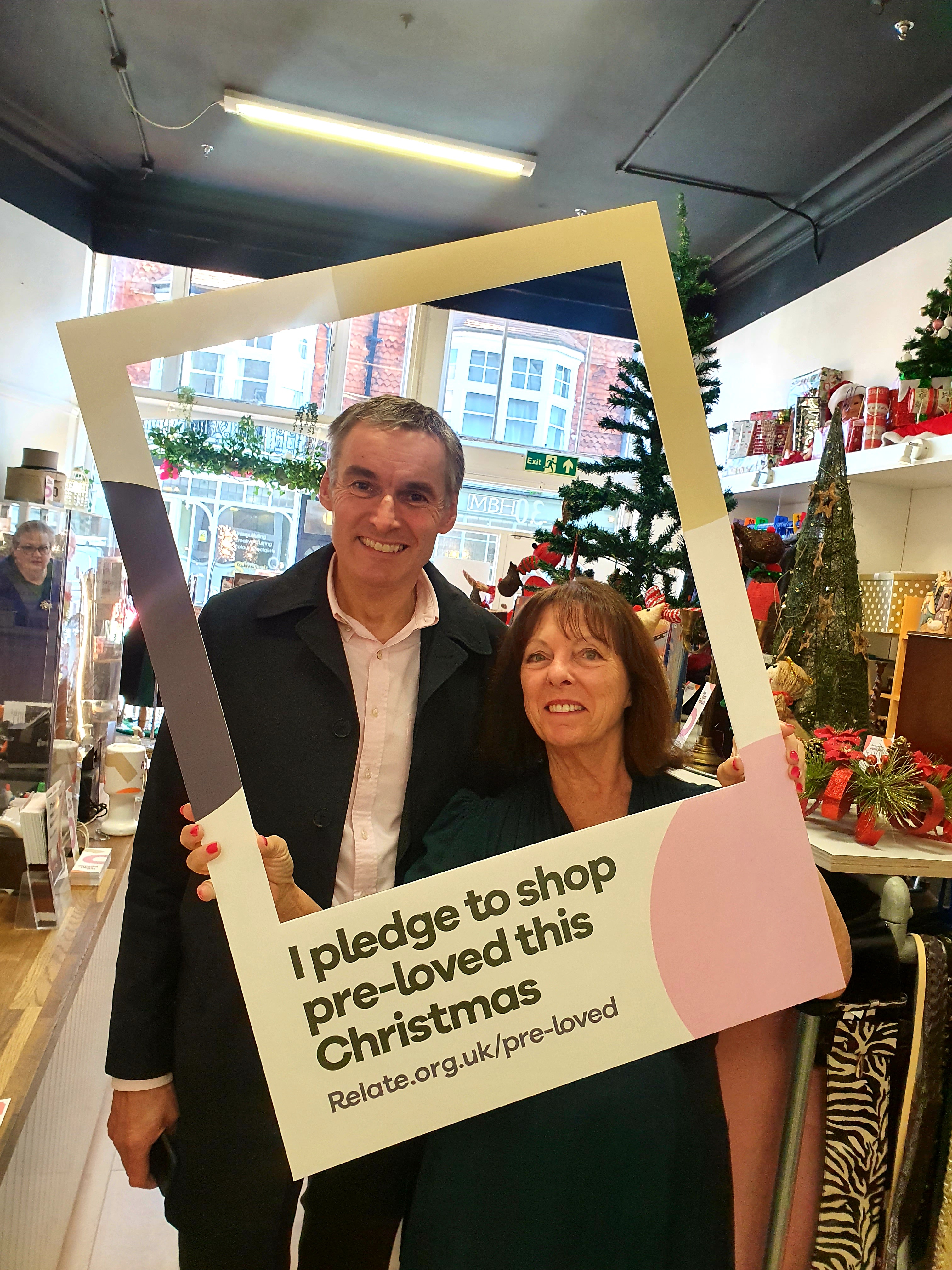 Attendees were given the opportunity to sign up to Relate's pre-loved pledge - a commitment to do at least some of their Christmas shopping in charity shops this Christmas. Relate's encouraging everyone to take the pledge to help the environment, charitable causes and to reduce pressure on people's stretched finances this Christmas.
Let's face it, the cost-of-living crisis means most of us are looking for ways to reduce our spending this winter. Not only is shopping second-hand a great way of saving money, it also helps the environment and the charitable causes that mean most to us. That's why we're encouraging as many people as possible to take the pre-loved pledge.

It was an honour to attend today's event in Meads - the shop is looking fantastic and there was a brilliant atmosphere. We'd like to thank the local community and everyone who came down for their ongoing support.

If your relationships are coming under pressure this winter, please don't hesitate to get in touch. We're more than just therapists, we're people, so whenever you're ready, we can relate.
We're delighted to be the first of Relate's shops to get a revamp in the bold and beautiful new brand. Thanks to our staff, volunteers and generous supporters, the Meads shop is already very successful, as well as being a friendly social hub. We had an excellent turn out on Friday and hope the makeover will generate greater awareness of Relate and drive even more donations so we can continue to support the local community and beyond with their relationships.
Notes to editors
Relate is the largest provider of relationship support In England and Wales.
We're here for every relationship – from romance to roommates, from colleagues to co-parents.
Our services include relationship counselling, family counselling, sex therapy, mediation and online self-help. You can access many of our services together or as an individual via webcam, phone, email or face-to-face.
We're an inclusive organisation and actively welcome people of all ages, backgrounds, relationship styles, faiths, religions, sexual orientations and genders, including anyone with health conditions or impairments.
Relate is a registered charity number 207314.
Millions of people every year access information, support and counselling from Relate but many more could benefit.
For more information visit: Relate.org.uk.
 
Join our newsletter to get relationship advice and guidance straight to your inbox